Teeth Whitening in Ottawa
The dentists at Ottawa Dentistry provide both in-office and take-home teeth whitening solutions for our patients.
What is Teeth Whitening?
Teeth whitening is a dental procedure that uses peroxide-based bleaching agents to lighten the colour of your teeth. Oxygen acts on the tooth enamel as the peroxide breaks down, creating the whitening effect. Dental lasers help to activate the bleaching solution and speed up the teeth whitening process.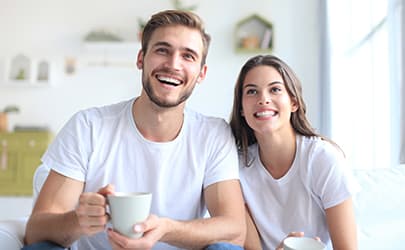 Teeth Whitening Procedures
Over time, teeth naturally darken. A variety of lifestyle factors, like diet and smoking, can also darken the appearance of teeth as you age.
At Ottawa Dentistry, we offer two treatment options to whiten darkened or stained teeth. Your dentist can help you decide which option is best for you. 
In-Office Teeth Whitening in Ottawa
Our dentists provide professional bleaching treatments at our office. This non-invasive treatment generally takes place in one appointment where your dentist will apply the whitening solution to the teeth and then activate it using a dental laser. 
Take-Home Teeth Whitening Kits in Ottawa
To get started with a take-home kit, your dentist will create a custom whitening tray for your teeth. Once your tray is ready they will ensure it fits properly and make adjustments as needed. Then you're all set to whiten your teeth from the comfort of your own home!