Hygiene & Prevention
At Ottawa Dentistry, we know that preventive dental hygiene is the key to good health and well-being. We will work with you to help you keep your smile healthy for a lifetime. 
Preventive Dental Care
Preventive hygiene includes regular dental exams and cleanings as well as good daily care at home. These practices are vital to achieving optimum oral health.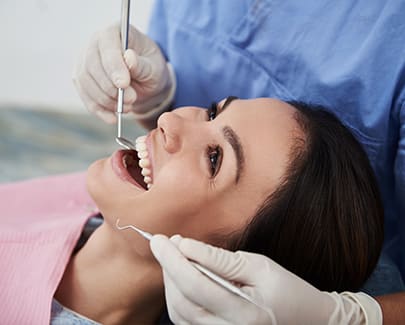 Dental Exams
Regular examinations (twice a year) at your dental office give your dentist the opportunity to identify any dental health problems and make a plan to treat them.  
During the exam, your dentist will take a close look at your teeth, gums, bite and jaw. Exams may also include dental x-rays, oral cancer screening, and additional diagnostic procedures as needed.
If your dentist finds dental issues, they will recommend treatment to stop any infection, clean and restore your teeth, and improve the health of your gums.
Fluoride Treatment
Fluoride is a natural mineral that can prevent tooth decay by re-mineralizing the enamel of the tooth. Our dentist may recommend fluoride treatment during a dental cleaning for adults and children with a higher risk of developing cavities. 
Dental Cleanings
Before or after your exam, your dental hygienist will perform a professional deep cleaning of your teeth.
The hygienist will begin by using a scaler to remove any tartar and plaque build-up between your teeth and along your gums. They will finish by flossing and polishing your teeth to leave you with a clean smile.