Clear Aligners in Ottawa
At Ottawa Dentistry, our dentists offer Invisalign, ClearCorrect™ and MTM® clear aligners. These custom orthodontics are another option to traditional metal braces.
Straighten Your Smile With Clear Aligners in Ottawa
Clear aligners can help you achieve an even smile without wearing metal braces. They are a discreet, removable and convenient orthodontic option. Using advanced 3D computer imaging technology, we will create a treatment plan and custom aligners just for you.
Clear Aligners at Ottawa Dentistry
Clear aligners are a series of custom-made, removable trays that fit comfortably over your teeth. They make tiny adjustments to your teeth while you wear them. 
You will wear each aligner for about two weeks before switching to the next one in the series. This process will continue until your teeth are in their prescribed, corrected positions. 
When the jaw of a young child is not developing well, their respiratory system, speech and facial development can be negatively affected – and early treatment is crucial.
We can fabricate an appliance or braces to amend any problems and to align teeth.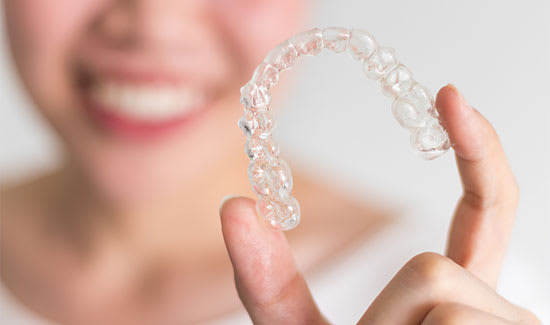 For adults, Invisalign clear aligners may be able to correct minor crowding and misalignment of the front teeth, sometimes in as little as 6 - 8 months.
At Ottawa Dentistry, we offer Invisalign, ClearCorrect™ and MTM® (Minor Tooth Movement) aligners for our patients.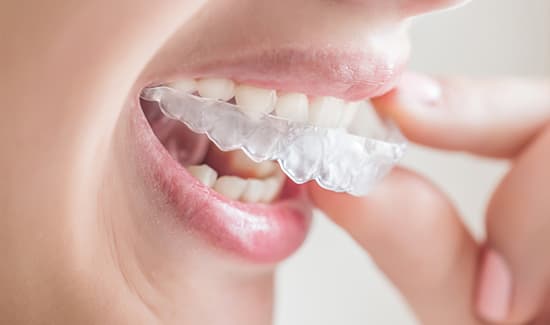 Clear Aligner FAQs
Read the answers to our most frequently asked questions.
What are the main features of clear aligners?
Clear aligners are discreet, removable and convenient. 
The aligners are made of a clear plastic material, making them difficult for others to notice you're wearing them.
You can also take them out to eat, drink, brush and floss, as long as you're sure to wear them for 20 to 22 hours each day.
What issues can clear aligners treat?
Clear aligners can treat a number of misalignment and malocclusion cases, including: crooked teeth, crowded teeth, gapped teeth and bite issues (overbite, underbite, cross bite, open bite).
After a comprehensive exam of your teeth and mouth, your dentist will determine if you are a good candidate for clear aligners.
How long does treatment take?
Only your dentist can determine the duration of your treatment based on your specific needs. Factors that may determine treatment length include the misalignment of your teeth or jaw, the shape of your bite, and the amount of movement required to correct the problem.
How much do clear aligners cost?
The cost of your treatment will depend on the severity of your case and length of your treatment. The more severe the malocclusion, the more aligners you'll need and the more your treatment will cost. Ultimately, the cost of clear aligners is comparable to that of traditional metal braces.
How will clear aligners affect my lifestyle?
You will probably find that clear aligners fit very comfortably into your daily life. Because of the low profile appearance, many people won't even notice you're wear them so the social impacts are minor.
You can also take your aligners out whenever you need to eat, or brush and floss your teeth. That means absolutely no dietary restrictions, and brushing and flossing is just as easy as ever.